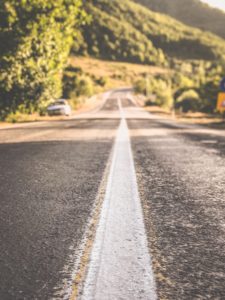 Road striping is essential for all kinds of asphalt surfaces, from six-lane freeways and city streets to parking lots and cul-de-sacs. Business owners, government officials, and other property owners and managers must make arrangements to maintain vivid markings on their paved surfaces to boost safety and visibility. Road striping services can be reasonably straightforward, but there are a few steps that contractors and business owners can take to ensure a job well done.
Repair Cracks and Potholes Before Road Striping Services
The best canvas for clear, well-defined pavement markings is a smooth and unblemished asphalt surface. Contractors and property managers should work to repair any cracks, potholes, or other problems before road striping commences.
Create a Clean Surface for Road Striping
Once the paved surface is free of any holes or fissures, it must be cleaned. Leaves and debris can be swept up fairly easily, but things like chewing gum, oil residue, and unwanted paint can be tricky to remove. However, without getting rid of these unwanted substances, road striping paints cannot adhere correctly to the asphalt. Cleaning is a critical step in this process.
Plan for Traffic and Parking Considerations
When repaving or restriping asphalt, temporary accommodations must be made for the traffic that would typically use that lot or road. Maintenance can take up to a day or more, and many professionals advise informing drivers, customers, and passersby about the scheduled maintenance at least a week in advance. While rerouting traffic can be simple for smaller side streets and parking lots, road striping projects for large freeways or city streets can take a great deal of planning and coordination.
Check Weather Forecasts and Scheduled Sprinklers
Another factor to consider is moisture. Wet pavement may not accept paint as readily as dry pavement, so contractors must pay close attention to any precipitation that may come in the hours or days before road striping is scheduled to take place. Property owners should turn off any sprinklers that may moisten the asphalt ahead of road striping services.
Work With an Experienced Road Striping Contractor
Perhaps the most crucial step toward well-marked asphalt is choosing the right contractor for the job. Clients should look for contractors with experience performing projects of the same type and scale, and communication and preparation are key. 
ABOUT RELIABLE CONTRACTING
Reliable is dedicated to delivering quality products, displaying professionalism within the firm, seeking new opportunities for expansion and profitability, and providing an environment for individual success. If you have a commercial or residential construction project that you need taken care of, please contact Anne Arundel County's largest site-work contractor today by calling 410-987-0313 or visiting our website. You can also follow Reliable Contracting on Facebook, LinkedIn, Pinterest, and Twitter!
Reliable Contracting Company serves the following and surrounding counties: Annapolis, Queen Anne's, Anne Arundel, Baltimore, Baltimore City, Calvert, Caroline, Charles, Howard, Prince George, St. Mary's, Talbot, and Washington D.C.