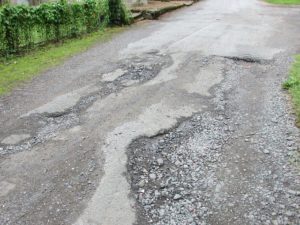 Asphalt is ubiquitous in residential and commercial areas alike. The material is known for its strength and durability, but all paved surfaces sustain damage and typical wear and tear over time. While preventative maintenance and expert installation can help prolong the life of a paved surface, asphalt contractors often see a few types of damage that must be repaired to maintain a road's safety. Read on to learn about some common kinds of damage that asphalt contractors must detect and repair while on the job.
Cracking: A Common Sight for Asphalt Contractors
Cracks are some of the most prevalent issues that asphalt contractors see, but there are many different types of cracks with unique causes and forms of treatment. Any asphalt contractor worth their salt must be able to address the standard types of cracking: block, slippage, reflection, edge, and fatigue cracking can plague any paved surface. Block cracking occurs on the surface level and often results from using old or dry materials during installation. Slippage cracks appear wrinkled, as though the top layer of pavement is sliding off of the subbase. Fatigue cracking is typically caused by considerable flaws in multiple layers of pavement, resulting in the need for more substantial repair than surface-level cracks.
Potholes and Grade Depressions
Many problems that asphalt contractors address are due to materials settling over time. Both potholes and grade depressions occur gradually, with long-term erosion and compression to blame. Potholes are essentially places where damaged pavement has been left to degrade; cracks, patch failures, and other defects allow liquids to penetrate the pavement's surface. When the liquid freezes and thaws, the cracks expand and worsen. Melting ice can also wash away some solids that fill potholes, making them more apparent in warmer weather. Grade depressions also worsen over time, and they are caused by portions of pavement settling unevenly. These depressions can be spotted easily after rain when they become puddles.
Raveling and Patch Failures
Raveling is typically restricted to the surface of asphalt pavement, but it is almost always the result of problems during installation. Poor quality pavement, improperly mixed binders, and excessive temperature fluctuations contribute to unusually rapid surface deterioration known as raveling. Patch failures can either be due to an improperly installed patch or unusually harsh weather conditions. Fortunately, failed patches can often be replaced with another patch.
ABOUT RELIABLE CONTRACTING
Reliable is dedicated to delivering quality products, displaying professionalism within the firm, seeking new opportunities for expansion and profitability, and providing an environment for individual success. If you have a commercial or residential construction project that you need taken care of, please contact Anne Arundel County's largest site-work contractor today by calling 410-987-0313 or visiting our website. You can also follow Reliable Contracting on Facebook, LinkedIn, Pinterest, and Twitter!

Reliable Contracting Company serves the following and surrounding counties: Annapolis, Queen Anne's, Anne Arundel, Baltimore, Baltimore City, Calvert, Caroline, Charles, Howard, Prince George, St. Mary's, Talbot, and Washington D.C.