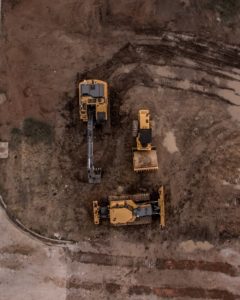 There are countless professionals involved in virtually every construction project. From architects and engineers to dump truck drivers and pipelayers, construction requires cooperation and expertise from those involved to make projects run smoothly. Site prep contractors are just one type of professional involved in construction, but they play a vital role in many kinds of projects. These professionals are responsible for clearing debris and ensuring that all underground utilities and obstacles are accounted for. Here are a few reasons why these experts are essential for successful construction:
Effective Site Prep Contractors Make Excavation And Grading Easier
Excavation and grading services are the foundation of any safe, stable, and long-lasting development or building. Things like unmarked utilities, massive tree stumps, and old structures can create significant obstacles for excavation and grading professionals, and site prep contractors are responsible for addressing these issues. When excavation and grading experts can do their jobs uninterrupted, the result is a faster and higher-quality foundation.
Site Prep Contractors Give Crews Easier And Safer Access
Construction crews use all kinds of equipment and heavy machinery, and these vehicles and machines require clear roads and pathways. By considering the crews' needs and preparing the land for construction, site prep contractors allow other professionals to have the easy access they need to operate equipment safely. Even a small obstacle can make using a dump truck or crane difficult or unsafe. Clear access to the worksite makes a project safer, faster, and more efficient.
Thorough Work Keeps Projects Running On Time
Although site prep contractors complete most of their work at the very early stages of a construction project, their work's impact can be felt for months or years after the fact. When site prep is not done well, it tends to have a ripple effect down the line. Stopping crews in the middle of their work to address a buried boulder, unmarked utility, or other unseen obstacle that the sitework team missed can be incredibly expensive and wasteful. This is what makes thorough site prep contractors so valuable. When crews can work uninterrupted, construction is often safer and faster. 
ABOUT RELIABLE CONTRACTING
Reliable is dedicated to delivering quality products, displaying professionalism within the firm, seeking new opportunities for expansion and profitability, and providing an environment for individual success. If you have a commercial or residential construction project that you need taken care of, please contact Anne Arundel County's largest site-work contractor today by calling 410-987-0313 or visiting our website. You can also follow Reliable Contracting on Facebook, LinkedIn, Pinterest, and Twitter!

Reliable Contracting Company serves the following and surrounding counties: Annapolis, Queen Anne's, Anne Arundel, Baltimore, Baltimore City, Calvert, Caroline, Charles, Howard, Prince George, St. Mary's, Talbot, and Washington D.C.