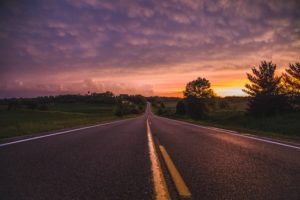 Pavement markings are a critical feature of any safe and effective roadway, and it takes routine maintenance to ensure that these markings are clear, visible, and accurate. The materials, patterns, and symbols used depend on all kinds of factors, and state and local governments often have specific guidelines for different types of roads. Placing and removing these markings is a common aspect of asphalt maintenance, and these basic methods are used by road striping professionals to apply and remove pavement markings.
Applying Road Striping Markings
The method used to apply road striping markings depends on the type of paint required. Some applications require reflective paint, while other projects can utilize oil- or water-based paints. Reflective paints are often thermoplastic, and they have a reputation for being one of the most durable (and costly) options available. Thermoplastic paints are heated either before or during application to fully bond to the asphalt, while oil- and water-based paints are applied using more straightforward methods. Spray dispensers are standard for spraying larger lines or curbs, while a handful of other markings may require using tape or stencils to form the correct shape.
Common Methods for Removing Road Striping
Pavement markings often need to be removed, either to install new ones or perform other maintenance. There are a few different ways to accomplish this, and the two most common methods are grinding and water blasting. Grinding involves using a specialized machine that files the asphalt surface, stripping away the old paint. Water blasting utilizes a high-pressure stream of water to lift and remove road markings.
Which Road Striping Methods Are Best?
The processes used in road striping, both when applying new markings and removing old ones, have unique benefits and drawbacks. Applying thermoplastic paints, for example, can help cut down on maintenance costs over time. However, these materials are often exceptionally costly. Removing markings with a grinder is a standard practice, but these machines can sometimes leave surfaces rough and prone to ice buildup. Grinders also create debris and dust that must be collected during the process; water blasting creates similar debris, but it does not create the same level of dust. The best methods for road striping depend on the individual project: a state highway with no changes in the foreseeable future may benefit from the application of thermoplastics, while a smaller commercial lot may fare better with traditional oil-based paints.
ABOUT RELIABLE CONTRACTING
Reliable is dedicated to delivering quality products, displaying professionalism within the firm, seeking new opportunities for expansion and profitability, and providing an environment for individual success. If you have a commercial or residential construction project that you need taken care of, please contact Anne Arundel County's largest site-work contractor today by calling 410-987-0313 or visiting our website. You can also follow Reliable Contracting on Facebook, LinkedIn, Pinterest, and Twitter!
Reliable Contracting Company serves the following and surrounding counties: Annapolis, Queen Anne's, Anne Arundel, Baltimore, Baltimore City, Calvert, Caroline, Charles, Howard, Prince George, St. Mary's, Talbot, and Washington D.C.