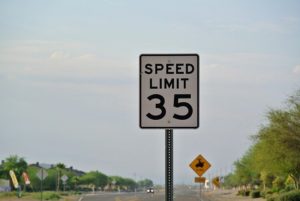 Work zones and detours can make any commuter groan in frustration, but they're a vital part of construction and road maintenance. Speed reduction in these areas is often necessary to bolster safety and keep pedestrians, workers, and drivers accident-free. But how do contractors determine which speed reductions are necessary? How do they display and enforce these speed limit changes? In this part of our Work Zone Awareness Month series, we explore speed reductions in work zones and how contractors strive to keep their workers and passersby safe from harm.
How Do Contractors Determine Work Zone Speed Limits?
It may seem counterintuitive, but speed reductions aren't always needed near work zones. Contractors must make decisions regarding speed management based on the type of work being done, state or local regulations, and the duration of the work. If traffic is expected to slow naturally ahead of the construction zone, for example, signs and other speed reduction tools may not be necessary. Similarly, work that occurs solely on the other side of a protective barrier may not require a speed reduction. Contractors need to consider whether speed reductions are required and how best to implement them for maximum compliance. Posted speed limits can be helpful, but contractors must use appropriate strategies to ensure that drivers actually slow down in work zones.
Signs, Beacons, and Other Tools for Contractors
Once contractors determine how much of a speed reduction to apply, they must decide how they will inform drivers of the new speed limits and traffic patterns in the area. Static speed limit signs are a popular option, and signs that roll on portable stands are ideal for some projects that move down a stretch of road as they progress. Flashing lights can be added to these signs to draw attention to the new or temporary speed limits. Some work zones that are only in use sometimes may feature signs that tell travelers that the new speed limits are only in effect when the flashing lights are on, while work zones with variable reductions in speed may utilize electronic signs with changing numbers. Some work zones are flanked by speed detection systems that let drivers know how fast they're going, and these systems are excellent tools to help boost compliance with posted speeds.
ABOUT RELIABLE CONTRACTING
Reliable is dedicated to delivering quality products, displaying professionalism within the firm, seeking new opportunities for expansion and profitability, and providing an environment for individual success. If you have a commercial or residential construction project that you need taken care of, please contact Anne Arundel County's largest site-work contractor today by calling 410-987-0313 or visiting our website. You can also follow Reliable Contracting on Facebook, LinkedIn, Pinterest, and Twitter!

Reliable Contracting Company serves the following and surrounding counties: Annapolis, Queen Anne's, Anne Arundel, Baltimore, Baltimore City, Calvert, Caroline, Charles, Howard, Prince George, St. Mary's, Talbot, and Washington D.C.