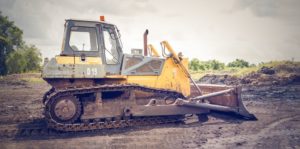 Construction projects don't start when crews lay their first bricks or start pouring concrete. Rather, these projects begin with thorough planning and expert site preparation. New roads, buildings, and stormwater management systems all require a blank canvas to start, and things like tree roots, old structures, and rocks can get in the way. Creating a stable foundation is next to impossible with debris strewn throughout a worksite, which is why site clearing and excavation are crucial. In this blog, we discuss the importance of site clearing and excavation for new construction projects.
What is Site Clearing?
Site clearing is one of the first physical construction processes to take place on a worksite. To get any build site ready for construction, the ground will require cleanup before work can commence. Old structures, construction waste, trees, brush, trash, and boulders can interfere with the stability and leveling of the ground and the area surrounding the worksite, so site clearing professionals must remove them. The removal of old slabs of concrete, massive tree roots, and countless pieces of trash from the surface and old unsuitable fill material present on the worksite can take a lot of hard work and attention to detail. Without thorough site clearing, excavation and grading professionals must contend with unknown materials. This unpredictability makes it incredibly challenging to create a stable foundation in a safe, effective, and timely manner.
Following Site Clearing with Excavation and Grading Services
Once all trash and debris have been removed from a worksite, construction professionals must stabilize the soil, bringing the soil levels to an appropriate depth and compaction to support the building structure. Removing trees and boulders can leave voids in the ground (soft spots). Professional excavation and grading services help stabilize a worksite to make it suitable for compaction tests before the installation of building pads, and other additional work can take place. The process of stabilizing the soil can include excavation of old material and backfilling with new materials such as stone and compactable fill. A top layer of soil cement on the level ground provides additional support for building structures.
Long-Term Drawbacks of Ineffective Site Clearing Services
Site clearing is crucial for safety on the construction site, but it's also vital for the longevity and stability of any structures built on the premises. If trees, bushes, or other organic materials are left behind, the earth can settle drastically and unevenly over time. This can lead to things like faulty foundations, complications with underground utilities, and poor drainage. It is vital to choose an experienced site clearing contractor for any project, and the experts at Reliable Contracting are here to help.
ABOUT RELIABLE CONTRACTING
Reliable is dedicated to delivering quality products, displaying professionalism within the firm, seeking new opportunities for expansion and profitability, and providing an environment for individual success. If you have a commercial or residential construction project that you need taken care of, please contact Anne Arundel County's largest site-work contractor today by calling 410-987-0313 or visiting our website. You can also follow Reliable Contracting on Facebook, LinkedIn, Pinterest, and Twitter!
Reliable Contracting Company serves the following and surrounding counties: Annapolis, Queen Anne's, Anne Arundel, Baltimore, Baltimore City, Calvert, Caroline, Charles, Howard, Prince George, St. Mary's, Talbot, and Washington D.C.