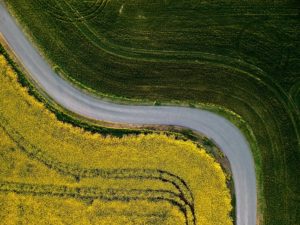 High-tech construction methods, tools, and materials are fascinating. Cutting-edge construction practices can improve the efficiency and longevity of structures while minimizing their negative environmental impacts. We live in a modern world where scientists and working folks in all industries strive to make things better, and that's a beautiful thing. Still, sometimes the simplest solutions are the best. Soil cement is a straightforward combination of dirt and Portland cement, but this material's benefits and applications make it anything but boring. This week, we take a dive into the world of soil cement and its applications in paving and construction.
Soil Cement Composition
As the name would suggest, soil cement is made up of soil materials and Portland cement. However, the specific ratio of dirt, cement, and water depends on the application and makeup of the dirt involved. This material can include all kinds of waste products like fly ash, reclaimed construction materials, and quarry screenings, in addition to typical components like clay, sand, silt, and crushed stone. To create roads, paving contractors start by combining dirt, cement, and water. They then spread the mixture, compress it, and allow the newly paved surface to cure. Some roads are topped with asphalt mats or other bituminous surfaces.
Benefits of Soil Cement
There are many upsides to using this durable material. Because soil cement includes reused and cheap fill material as a base, it is an incredibly affordable option for all kinds of roads. Despite its affordability, soil cement is a very strong material for roads, runways, and other paved surfaces that see high traffic. Some studies have shown that these surfaces can increase in strength over time, and these roads' long-term performance is typically excellent. By using recycled aggregate and nearby fill material for the mixture's soil component, construction crews can reduce transportation costs and emissions while also preserving natural resources. This material may not be the most modern or flashy paving option out there, but its benefits are undeniable!
Applications for Soil Cement
Roads are a common use for this material, but they are by no means the only application. Industrial facilities, airports, and public and private roadways are excellent candidates for soil cement surfaces, but there are plenty of more imaginative ways to use this material. Construction crews can use this material to strengthen dams, reinforce levees, and create patios and walkways. Some of the more creative uses for this material include tiles, bricks, and entire houses! 
ABOUT RELIABLE CONTRACTING
Reliable is dedicated to delivering quality products, displaying professionalism within the firm, seeking new opportunities for expansion and profitability, and providing an environment for individual success. If you have a commercial or residential construction project that you need taken care of, please contact Anne Arundel County's largest site-work contractor today by calling 410-987-0313 or visiting our website. You can also follow Reliable Contracting on Facebook, LinkedIn, Pinterest, and Twitter!
Reliable Contracting Company serves the following and surrounding counties: Annapolis, Queen Anne's, Anne Arundel, Baltimore, Baltimore City, Calvert, Caroline, Charles, Howard, Prince George, St. Mary's, Talbot, and Washington D.C.