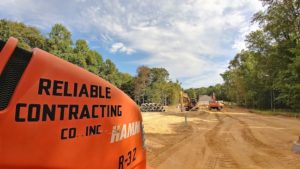 Site clearing is a crucial first step for construction projects in areas with trees, rocks, or other debris. Paired with excavation, site clearing is designed to prepare the property for construction and allow for the installation of a stable foundation. The experts at Reliable Contracting can help transform your worksite from a messy, overgrown lot to a clear and level space. Here are some of the basics that everyone should know about site clearing and excavation.
What is Site Clearing and Why is it Important?
Site clearing involves removing any obstacles or debris that could interfere with construction. This often includes removing trees, digging up rocks, and discarding any waste or remnants of past construction. Without thorough site clearing, it is nearly impossible to create a solid foundation and a safe work environment for contractors and their teams. Organic debris, such as trees and logs, can decompose over time. If a foundation is built on top of these objects, this can cause issues with stability in the future. Site clearing is also crucial for safety throughout the project. Hidden objects in the dirt can become hazardous for crews working on the site, and unsecured boulders or dead trees can create their own problems. Removing these unnecessary items ensures that a project can start on the right foot.
Excavation Sets the Stage
After site clearing, an excavation and grading team will dig a space in which to create the new foundation. This process takes a great deal of expertise; excavation contractors must know precisely how to navigate a site with specific types of soil composition. Clay, sand, and other materials can impact how the dirt will behave during excavation, as well as how it will settle over time. Knowing a great deal about construction and soil composition is crucial for the safety of the crews on-site and the structure's long-term stability.
Choose a Capable Team for Site Clearing
Because these processes are vital for the success of your construction project, finding the right contractor for the job is essential. Insufficient site clearing or improper excavation can result in a poorly-laid foundation, or worse, workplace accidents that can cause a liability nightmare. Look for a team that has experience with the kind of project that you are planning. An excellent safety record is a must, and contractors with a good reputation can be extremely valuable. The team at Reliable has been prioritizing safety and excellence in every job for over 91 years, and our team is proud to serve clients in Maryland and Washington, D.C. 
ABOUT RELIABLE CONTRACTING
Reliable is dedicated to delivering quality products, displaying professionalism within the firm, seeking new opportunities for expansion and profitability, and providing an environment for individual success. If you have a commercial or residential construction project that you need taken care of, please contact Anne Arundel County's largest site-work contractor today by calling 410-987-0313 or visiting our website. You can also follow Reliable Contracting on Facebook, LinkedIn, Pinterest, and Twitter!

Reliable Contracting Company serves the following and surrounding counties: Annapolis, Queen Anne's, Anne Arundel, Baltimore, Baltimore City, Calvert, Caroline, Charles, Howard, Prince George, St. Mary's, Talbot, and Washington D.C.