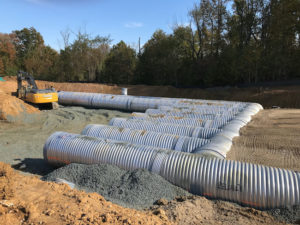 Stormwater mitigation systems are a critical component for properties in Maryland and Washington, D.C. Managing stormwater helps reduce pollution in local waterways and decreases the likelihood of water damage from flooding after severe storms. Storm drains are a standard mitigation method for all kinds of properties, but detecting defects or blockages can be challenging for property owners. If you notice signs of ineffective stormwater management on your property, contact Reliable Contracting. In addition to storm drain repair, our team offers installation and maintenance services for bioswales, retention ponds, and more.
Starting With Effective Storm Drain Design
One of the best ways to ensure that your property's stormwater mitigation systems perform well for years to come is to start with efficient design and top-notch construction. There are many different systems to consider for your property, and an experienced contractor may suggest installing a retention pond or bioswale instead of (or in addition to) storm drains. Designing an effective stormwater mitigation system often requires an in-depth understanding of various aspects of engineering, architecture, and biology. Be sure to hire a reputable team when installing, renovating, or repairing your stormwater management systems.
Signs of Storm Drain Malfunction
While blockages and cracks can be challenging to see, there are a few warning signs that property owners and managers can watch for. Standing water around your storm drain can be an indication that there is a clog or blockage somewhere down the line. An early sign of some issues is the development of sinkholes in the ground above the pipes, and you may even notice excessive plant growth in these areas as water leaks from the system. Keep an eye out for debris, foliage, or branches around your storm drain's openings. This debris can lead to clogs, to be sure to remove any visible detritus regularly.
Benefits of Maintaining Stormwater Mitigation Systems
First and foremost, stormwater mitigation protects your property from damage. Standing water and poorly-managed stormwater can lead to issues with your property's foundation, and flooding can cause significant and expensive problems. Effective stormwater mitigation systems also protect the surrounding environment from pollution and trash that can be found in runoff. Lastly, these systems can boost curb appeal by limiting the presence of puddles and standing water while preserving structures on your property. If your storm drain or other stormwater mitigation measures need attention, contact the experts at Reliable Contracting.
ABOUT RELIABLE CONTRACTING
Reliable is dedicated to delivering quality products, displaying professionalism within the firm, seeking new opportunities for expansion and profitability, and providing an environment for individual success. If you have a commercial or residential construction project that you need taken care of, please contact Anne Arundel County's largest site-work contractor today by calling 410-987-0313 or visiting our website. You can also follow Reliable Contracting on Facebook, LinkedIn, Pinterest, and Twitter!

Reliable Contracting Company serves the following and surrounding counties: Annapolis, Queen Anne's, Anne Arundel, Baltimore, Baltimore City, Calvert, Caroline, Charles, Howard, Prince George, St. Mary's, Talbot, and Washington D.C.