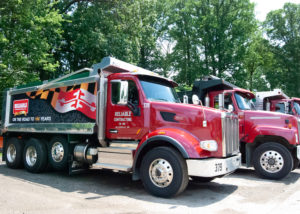 Transportation plays a massive role in any construction project. From bringing in materials to hauling away debris, dump truck drivers perform various critical duties and are a vital part of any successful team. A commitment to safety is key in any job on a construction site, but these professionals must also have a collection of other characteristics and skills to perform well. Here are just a few of the traits to look for when hiring qualified dump truck drivers.
Dump Truck Drivers Must Be Responsible and Alert
Like any other position that requires the use of heavy machinery, being a dump truck driver requires constant alertness and responsibility. Contractors and other construction professionals must trust that their coworkers will deliver materials on time, keep their trucks well-maintained, and remember critical safety procedures. Dump truck drivers must be responsible enough to keep up with preventative maintenance and accident prevention tasks. At the same time, these professionals must stay alert in order to detect potential safety issues.
Training and Experience are Critical
Driving a dump truck is different from driving a car or semi-truck. Drivers must be able to load and unload materials on a variety of different terrains. The number of variables that they face every day can be challenging to adjust to. Training and education can help drivers perform their jobs effectively, but experience is absolutely invaluable. Some things simply cannot be learned through classes and books. When looking for capable dump truck drivers, certifications and job experience can be a good indication of a worker's fitness for a project.  
Dump Truck Drivers Must Put Safety First
Safety should be a priority for everyone on a worksite, and this is particularly true for dump truck drivers. They must be intimately familiar with safety best practices and precautions. Drivers will often have to assess a worksite to determine the safest way of loading or unloading their cargo, and these decisions can sometimes face pushback from people looking to get things done quickly. A capable dump truck driver knows that safety and stability are vastly more important than speed, and they should only load or unload their truck if it is safe to do so. At Reliable Contracting, our teams are dedicated to safety from day one. Our track record underscores this commitment. If you need a helping hand for your next project, contact the team at Reliable Contracting!
ABOUT RELIABLE CONTRACTING
Reliable is dedicated to delivering quality products, displaying professionalism within the firm, seeking new opportunities for expansion and profitability, and providing an environment for individual success. If you have a commercial or residential construction project that you need taken care of, please contact Anne Arundel County's largest site-work contractor today by calling 410-987-0313 or visiting our website. You can also follow Reliable Contracting on Facebook, LinkedIn, Pinterest, and Twitter!

Reliable Contracting Company serves the following and surrounding counties: Annapolis, Queen Anne's, Anne Arundel, Baltimore, Baltimore City, Calvert, Caroline, Charles, Howard, Prince George, St. Mary's, Talbot, and Washington D.C.