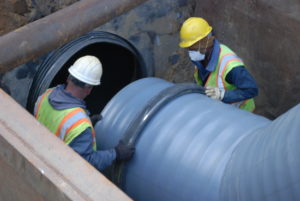 Construction projects of all kinds rely upon the expertise of a large selection of professionals, from experts in grading and excavation to structural engineers. Underground utility contractors are often among the professionals present on any given worksite. As their title would suggest, these professionals are responsible for a few tasks regarding the buried infrastructure for things like electricity, natural gas, water, and sewage. Underground utility contractors are a vital part of any construction project, and these are just a few of the things that they do.
Underground Utility Contractors Work With Various Systems
There are plenty of utilities that these professionals work with, and multiple systems are often present in any given area. For other construction processes to proceed safely, these experts must work with gas lines, water lines, power lines, underground cables, sewage pipelines, and more. Underground utility contractors must know the types of utilities present on-site as well as the precise location and materials buried alongside them. These professionals must have an intimate knowledge of the installation processes for each type of infrastructure, as well as the common hazards and complications that may arise.
They Locate Utilities and Keep Worksites Safe
Safety is the number one concern on any construction site, and underground utility contractors are critical in maintaining a safe work environment. Anyone can call 811 to get a rough idea of the buried pipes and cables nearby, but contractors do extensive research to accurately and precisely determine the location, depth, and layout of the present infrastructure. A misplaced or undetected cable or pipe can wreak havoc on a construction site, inflicting consequences that range from delays and equipment damage to worker injuries and death. Underground utility contractors work with everyone on the worksite to ensure that accidents involving buried infrastructure are avoided.
Underground Utility Contractors Install Pipes, Cables, and More
While many construction projects require underground utility contractors to maintain safety and awareness of buried utilities that are already present, there are plenty of professionals who specialize in the installation of these systems. Installing water lines, sewage systems, and other underground utilities requires a great deal of expertise in the field. Knowledge of different kinds of fill material is also crucial. For specialized projects like underground utility installation, it is absolutely critical to track down an experienced underground utility contractor for the job.
ABOUT RELIABLE CONTRACTING
Reliable is dedicated to delivering quality products, displaying professionalism within the firm, seeking new opportunities for expansion and profitability, and providing an environment for individual success. If you have a commercial or residential construction project that you need taken care of, please contact Anne Arundel County's largest site-work contractor today by calling 410-987-0313 or visiting our website. You can also follow Reliable Contracting on Facebook, LinkedIn, Pinterest, and Twitter!

Reliable Contracting Company serves the following and surrounding counties: Annapolis, Queen Anne's, Anne Arundel, Baltimore, Baltimore City, Calvert, Caroline, Charles, Howard, Prince George, St. Mary's, Talbot, and Washington D.C.