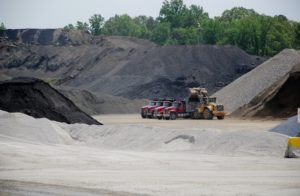 The term "gravel" typically refers to pieces of crushed stone — often basalt, sandstone, or limestone — that are categorized by size, composition, color, or shape. This material takes many forms; pea gravel, river rock, and stone dust can all be considered gravel. There are plenty of applications for these stone products in construction. From acting as fill material or pipe bedding to making up foundations and roads, gravel is a versatile material that comes in many shapes and sizes. In this blog, we will explore the types, uses, and benefits of this material in construction.
Benefits of Gravel in Construction
Gravel is a common material on construction sites of all kinds, particularly for projects that are near water. It can provide superior drainage when used as fill material or pipe bedding. Gravel is also used as an ingredient in some concrete mixes, adding volume and strengthening the concrete. Some construction projects eschew concrete altogether in favor of gravel; the material can be used to great effect when creating some driveways, walkways, and low-traffic roads. For these kinds of projects, crushed stone creates a well-draining, permeable, and affordable surface.
Different Types
There are many types of crushed stone used in construction, but the factor that tends to be the most significant is size. Gravel is sorted and sold based on its size, or "grade," which is typically determined by screening. During the screening process, crushed stone is sifted through grates of varying sizes so that it can be sorted and shipped off. Another critical characteristic of this material is its shape. Rounded stones and rocks with jagged edges behave differently when compressed or under lateral pressure, making some mixtures more suitable than others for foundations.
Finding Gravel in Your Neighborhood
The world of gravel can seem complex, particularly as it relates to excavation and grading. However, the use of this aggregate is so widespread that there are plenty of places that everyday folks can find it used in their own communities. Many paved roads use gravel as a base, and some homes feature driveways made of the stuff. Your home, office, or school may be built on a foundation that is partially composed of gravel! The team at Reliable Contracting uses a variety of materials to build and maintain infrastructure throughout Maryland and Washington, D.C. For more information on our services and projects, explore our website or contact our team.
ABOUT RELIABLE CONTRACTING
Reliable is dedicated to delivering quality products, displaying professionalism within the firm, seeking new opportunities for expansion and profitability, and providing an environment for individual success. If you have a commercial or residential construction project that you need taken care of, please contact Anne Arundel County's largest site-work contractor today by calling 410-987-0313 or visiting our website. You can also follow Reliable Contracting on Facebook, LinkedIn, Pinterest, and Twitter!

Reliable Contracting Company serves the following and surrounding counties: Annapolis, Queen Anne's, Anne Arundel, Baltimore, Baltimore City, Calvert, Caroline, Charles, Howard, Prince George, St. Mary's, Talbot, and Washington D.C.