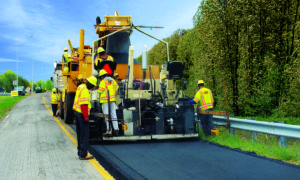 We see and drive on roads and parking lots routinely, but few realize what goes into their construction. Roads and parking lots have deep layers beneath them and scientific study and work that goes into their design. Designing asphalt pavement is a complex science, the goal being to ensure that the final product can withstand the expected traffic load. The result is a series of different layers of asphalt pavement.
The Dirt Beneath
One might first begin to describe the layers of asphalt pavement with the subgrade or the surface, but the design really begins with the dirt beneath the entire pavement structure. The construction begins with clearing away old pavement, rocks, plant matter, and debris and ensuring that the dirt is stable enough to build upon. Contractors also grade the dirt for drainage purposes.
Subgrade
Once the dirt is prepared, contractors lay down the subgrade. The subgrade is the most important part of the entire design, setting down the very foundation of the pavement. The contractors must compact it thoroughly to ensure its stability for the upper pavement layers. Proper installation of the subgrade will set the pavement to last for around fifty years with proper care. Some call this layer a frost protection layer, as it also serves to protect the pavement from frost.
Base
Also known as the binder, the base is the next layer that goes onto the structure. The binder connects the subgrade with the surface and consists of a mix of aggregate and oil. Like the subgrade, it is also very durable and is what makes the surface strong.
Surface
The last asphalt layer is the surface layer with which everyday people are most familiar. This asphalt is a combination of crushed minerals, oil, and binder. Over time, asphalt will break down, but with proper maintenance, it can last for years.
How Reliable Contracting Can Help
Reliable Contracting can perform all aspects of asphalt paving, including excavating and grading. For over 90 years, we have been in the construction business and have helped complete countless excavation, grading, and asphalt pavement projects.
ABOUT RELIABLE CONTRACTING
Reliable is dedicated to delivering quality products, displaying professionalism within the firm, seeking new opportunities for expansion and profitability, and providing an environment for individual success. If you have a commercial or residential construction project that you need taken care of, please contact Anne Arundel County's largest site-work contractor today by calling 410-987-0313 or visiting our website. You can also follow Reliable Contracting on Facebook, LinkedIn, Pinterest, and Twitter!
Reliable Contracting Company serves the following and surrounding counties: Annapolis, Queen Anne's, Anne Arundel, Baltimore, Baltimore City, Calvert, Caroline, Charles, Howard, Prince George, St. Mary's, Talbot, and Washington D.C.