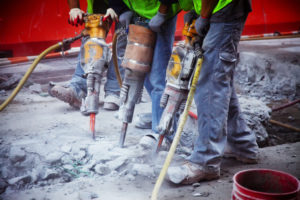 If you need reliable underground utility services in Maryland, rely on Reliable Contracting, located in Gambrills, MD, and Waldorf, MD! Reliable Contracting is a company that has been around since 1928, almost a century! We offer numerous specializations, including asphalt and concrete paving, dump truck services, grading and excavation, and soil cement installation. We also provide a range of underground utility services in Maryland, including the following!
Stormwater Management & Sewer Systems
Reliable Contracting builds and installs water and sewer lines and stormwater management systems. Proper installation of these systems is crucial for the safety and soundness of your construction site. Improper installation can cause foundations of roads and buildings to collapse, flooding, and erosion. We take the worry out of your infrastructure project and can also come up with innovative solutions such as RSCD, a Regenerative Stormwater Conveyance Design.
Storm Drains, Catch Basins, Dissipators, Etc.
We also specialize in the installation, repair, and replacement of all parts of a stormwater sewer system, including storm drains, catch basins, dissipators, manholes, and drainage culverts. Stormwater sewers are an engineering feat, designed to take water at the proper pace down to a reservoir or water treatment plant. For this reason, it is highly important to design, install, and maintain it well.
Retaining Walls for Erosion Control
We also build retaining walls to assist with sediment and erosion control. Along roads, businesses, homes, and other settings, industrial retaining walls might be necessary for preventing a dangerous collapse of the soil due to heavy rains.
Structural Plate Piping, Box Culvert, & Precast Bridges
You can also rely on us for the installation of structural plate piping, box culverts, and precast bridges to assist in drainage where regular sewer lines are not enough. All of these structures help to channel stormwater runoff and streams, but also serve other functions, such as pedestrian under and overpasses.
Emergency Repairs
An emergency concerning a stormwater system or a sewer line is no small matter. Reliable Contracting can be there on the spot and help you remediate and repair the situation at once. Contact us for reliable underground utility services in Maryland!
ABOUT RELIABLE CONTRACTING
Reliable is dedicated to delivering quality products, displaying professionalism within the firm, seeking new opportunities for expansion and profitability, and providing an environment for individual success. If you have a commercial or residential construction project that you need taken care of, please contact Anne Arundel County's largest site-work contractor today by calling 410-987-0313 or visiting our website. You can also follow Reliable Contracting on Facebook, LinkedIn, Pinterest, and Twitter!
Reliable Contracting Company serves the following and surrounding counties: Annapolis, Queen Anne's, Anne Arundel, Baltimore, Baltimore City, Calvert, Caroline, Charles, Howard, Prince George, St. Mary's, Talbot, and Washington D.C.