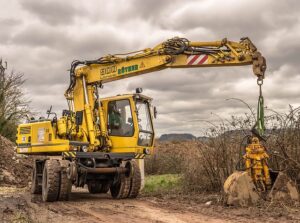 Before any building project can truly begin, site clearing experts and contractors must create a worksite that can facilitate construction. Solid foundations and clear sites don't always come easy; professionals must often consider many variables and obstacles that can complicate the process. Site clearing professionals are a valuable part of any project because they know how best to remove rocks, trees, and other debris that can get in the way. A rocky worksite can be particularly tricky to address, but experienced site clearing contractors know how to get the job done.
Site Clearing Starts Projects Off on the Right Foot
Site clearing is a crucial first step for any construction project, and hard work and expertise in the sitework and prep stages can have significant returns in the long run. Unexpected obstacles such as underground utilities, tree roots, rocks, and debris from old structures can cause severe delays and complications, ultimately leading to added expenses. Effective site clearing creates the ideal canvas for a more simple, straightforward construction project.
First, Professionals in Site Clearing Detect Rocks and Other Obstacles
Rocks and boulders are common on worksites, and these objects can cause significant problems if they aren't addressed by professionals in a safe and timely fashion. First, construction experts must detect rocks on the worksite. A popular method of detection is to take samples from boreholes on the site and have them analyzed by a geotechnical engineer. There are plenty of other methods in use today, and some contractors may not detect the presence of rocky soil until they actually break ground on the project. Thorough site clearing ahead of time helps minimize complications, and quick resolutions for rocky soil are particularly important if construction has already begun.
Methods for Removing Rocks and Boulders
When rocks and boulders are detected on a worksite, they must typically be removed to create a stable surface. There are a few ways to do this, including blasting and excavation. Site clearing professionals can often remove smaller rocks with bulldozers, rippers, and other equipment, and some stones may be suitable for use as aggregate in other projects. Larger rocks may need to be broken up into several pieces before they can be removed.
ABOUT RELIABLE CONTRACTING
Reliable is dedicated to delivering quality products, displaying professionalism within the firm, seeking new opportunities for expansion and profitability, and providing an environment for individual success. If you have a commercial or residential construction project that you need taken care of, please contact Anne Arundel County's largest site-work contractor today by calling 410-987-0313 or visiting our website. You can also follow Reliable Contracting on Facebook, LinkedIn, Pinterest, and Twitter!

Reliable Contracting Company serves the following and surrounding counties: Annapolis, Queen Anne's, Anne Arundel, Baltimore, Baltimore City, Calvert, Caroline, Charles, Howard, Prince George, St. Mary's, Talbot, and Washington D.C.