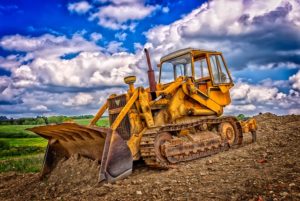 Every construction project requires a stable foundation, but not all worksites are equipped to handle the demands of a new structure. When a worksite's existing ground is full of debris or is not strong or sturdy enough to create a stable foundation, it is often referred to as "unsuitable material." Before creating a foundation and proceeding with the project at hand, construction professionals must remove or amend this unsuitable material to create a worksite that meets all necessary structural specifications.
What is Unsuitable Material?
Unsuitable material takes many forms, and material that is ideal for one project may be deemed unsatisfactory for another. Fill material on a worksite often includes some combination of gravel, dirt, clay, sand, and silt, and striking the right balance between all of these substances is crucial. Some worksites are filled with garbage, rubble from old structures, and other debris that must be removed before construction can proceed. Regardless of the materials present, construction professionals must ensure that the worksite's composition is conducive to construction and can withstand the demands of the new structure or surface.
Removing and Replacing Unsuitable Material
Removal is standard practice for managing unsuitable material on a worksite. Crews will remove the unwanted substances and replace them with fill material that is appropriate for the job. This can involve removing old pipelines, concrete chunks, trash, and trees. The space is then filled with suitable fill: dirt, gravel, sand, clay, or a mixture of multiple substances.
Amending Unsuitable Material in Place
For some projects, removal and replacement of unsuitable material is the only real option. Tree roots and garbage simply have no place in a structure's foundation. However, some worksites can be stabilized by amending the existing soil in place. Soil cement installation is a popular method for stabilizing unsuitable soil, and it can be faster and cheaper than removing and replacing the existing dirt. Construction crews amend the soil by adding lime or Portland cement, moistening the site, then mixing and pressing it. This creates a firm, stable surface out of material that was once "unsuitable." While soil cement installation isn't ideal for every project, it is a simple and cost-effective way for construction professionals to improve soil without removing and replacing it.
ABOUT RELIABLE CONTRACTING
Reliable is dedicated to delivering quality products, displaying professionalism within the firm, seeking new opportunities for expansion and profitability, and providing an environment for individual success. If you have a commercial or residential construction project that you need taken care of, please contact Anne Arundel County's largest site-work contractor today by calling 410-987-0313 or visiting our website. You can also follow Reliable Contracting on Facebook, LinkedIn, Pinterest, and Twitter!

Reliable Contracting Company serves the following and surrounding counties: Annapolis, Queen Anne's, Anne Arundel, Baltimore, Baltimore City, Calvert, Caroline, Charles, Howard, Prince George, St. Mary's, Talbot, and Washington D.C.