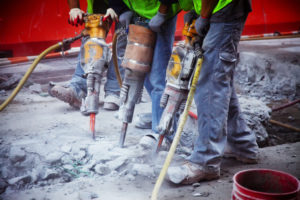 The construction industry relies on all kinds of materials, tools, and trades, and construction professionals must make wise choices when creating plans and selecting materials for their projects. Building pads, roads, and stormwater management systems must be able to stand the test of time, and materials like gravel are often an integral part of creating these durable structures. Gravel is a particularly versatile material with many potential applications in construction — let's learn more!
Gravel Comes in Many Forms
Many of us like to think we know exactly what gravel looks like, but the reality is that this material comes in all kinds of sizes, shapes, and colors. Natural stone is varied, and stone products can have drastically different characteristics, either due to their source and natural composition or method of processing. Gravel can be made from all kinds of stone, and the screened material can fit any number of size and shape specifications. Construction professionals must use the right grain size and texture for the job to ensure that the structures and surfaces they make are stable.
Using Gravel as Subbase and Pipe Bedding
Because of the way that pieces of gravel fit together with gaps between them, this material is a standard choice for applications that require ample drainage. Gravel is ideal for things like pipe bedding and other well-draining underground infrastructure. This material is also used to create subbase layers for paving projects. A surface's subbase is typically composed of a few layers, and the subbase is responsible for bearing a significant portion of the weight placed on the surface. High-quality gravel and expert installation are crucial for subbases, as these layers often outlast multiple generations of pavement.
Gravel as an Aggregate
Gravel isn't just used as-is; many pavement mixtures contain this material as an aggregate. Both cement and asphalt typically contain a decent amount of crushed stone, and the gravel contributes to greater strength and reduced shrinkage in the final surface. Choosing the right type of gravel can be crucial; pieces that are too large or have the wrong texture may not be suitable for the intended application, and a thorough knowledge of aggregates in pavement is vital.
ABOUT RELIABLE CONTRACTING
Reliable is dedicated to delivering quality products, displaying professionalism within the firm, seeking new opportunities for expansion and profitability, and providing an environment for individual success. If you have a commercial or residential construction project that you need taken care of, please contact Anne Arundel County's largest site-work contractor today by calling 410-987-0313 or visiting our website. You can also follow Reliable Contracting on Facebook, LinkedIn, Pinterest, and Twitter!

Reliable Contracting Company serves the following and surrounding counties: Annapolis, Queen Anne's, Anne Arundel, Baltimore, Baltimore City, Calvert, Caroline, Charles, Howard, Prince George, St. Mary's, Talbot, and Washington D.C.