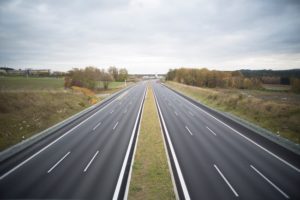 American systems of infrastructure contain all kinds of materials, technologies, and designs that are combined to keep us all connected. Transportation, specifically, requires systems of roadways and runways that are long-lasting, efficient, and safe. Hot mix asphalt is a standard material for all kinds of roads and other surfaces, and it's the most common choice for highways and other high-traffic roads in the U.S. Let's take a look at hot mix asphalt and its role in American infrastructure!
What is Hot Mix Asphalt, Exactly?
Hot mix asphalt (or HMA) is the industry standard for long-lasting and durable rolled pavement. Like other asphalt mixtures, HMA consists of aggregates, bitumen, and additives. Aggregates range from coarse stones and recycled pavement to finer substances like sand and small stones. Bitumen, also known as asphalt, is a type of pitch that is used to bind HMA's aggregates together. This petroleum product is combined with suitable aggregates and additives for the specific application, and the mixture is then heated to temperatures of 300 to 350 degrees Fahrenheit. The heated HMA is poured onto a prepared surface, rolled, and allowed to cool.
Where, When, and Why Hot Mix Asphalt is Used
HMA is the gold standard for roadways across the globe due to its flexibility, durability, and longevity. The material is resistant to weather and is water repellent, making it ideal for roads that routinely face harsh conditions. Because HMA must be poured and installed at high temperatures, regions with warm and mild weather often have greater windows of time for HMA installation. Still, many places (Maryland and Washington D.C. included!) have suitable weather for HMA installation during large portions of the year. Many contractors look for air temperatures above 40 degrees Fahrenheit when planning to install HMA.
Long-Term Outlooks for Hot Mix Asphalt Surfaces
While other pavement options like warm-mix and cold-mix asphalt can be installed in a wider range of weather conditions and have other significant benefits, HMA is still king when it comes to creating roads. When installed correctly, the material is significantly more durable than other asphalt mixtures. This creates a robust and long-lasting surface that can stand up to high traffic, heavy vehicles, and all kinds of weather. While the longevity of any piece of pavement depends on things like traffic levels and maintenance, surfaces that are made of HMA can often be expected to last for decades!
ABOUT RELIABLE CONTRACTING
Reliable is dedicated to delivering quality products, displaying professionalism within the firm, seeking new opportunities for expansion and profitability, and providing an environment for individual success. If you have a commercial or residential construction project that you need taken care of, please contact Anne Arundel County's largest site-work contractor today by calling 410-987-0313 or visiting our website. You can also follow Reliable Contracting on Facebook, LinkedIn, Pinterest, and Twitter!

Reliable Contracting Company serves the following and surrounding counties: Annapolis, Queen Anne's, Anne Arundel, Baltimore, Baltimore City, Calvert, Caroline, Charles, Howard, Prince George, St. Mary's, Talbot, and Washington D.C.