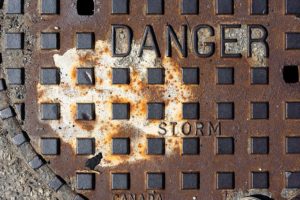 As the seasons change, folks everywhere are beginning to welcome the crisp, mild weather that makes those early autumn days special. Still, Marylanders can expect a deluge of fallen leaves and harsh storms just around the corner, with snow and ice following soon after. Storm drains are a critical part of stormwater management on all kinds of properties, especially in seasons where heavy rain is expected. Property owners and decision-makers must ensure that their storm drains are in good condition, and fall is a great time to check on storm drain health. Keep reading to learn more about storm drain function, maintenance, and repair.
Storm Drains are Everywhere
Stormwater management infrastructure is everywhere, and storm drains are a ubiquitous feature on all kinds of properties. Shopping centers, residential neighborhoods, city streets, and commercial complexes all have storm drains of one type or another, and the health of these drains is paramount. However, some property owners and stakeholders ignore their storm drains until it's too late. A properly functioning storm drain is easy to miss — it redirects stormwater promptly and efficiently, with no flooding, clogging, or leaking to be seen. But when these drains become clogged or otherwise compromised, the effects can be disastrous.
A Well-Maintained Storm Drain is Crucial
Effective stormwater mitigation measures help prevent erosion and water damage to landscapes and structures. When a storm drain is clogged, blocked, or cracked, water can gather in low-lying places, causing significant damage. Many factors can compromise a storm drain: tree roots, shifting ground, and blockages are just a few things for contractors and property owners to consider. Installing well-designed storm drains, performing routine maintenance, and making prompt repairs are essential for a healthy stormwater management system.
Getting a Storm Drain Ready for Fall
Properties with existing storm drains should be inspected and assessed regularly to detect any issues before they worsen. Things like standing water, slow-draining storm drains, and unusually lush foliage in the area can indicate problems beneath the surface. Routine cleaning is a must, especially in areas that can gather excessive amounts of branches, leaf litter, and debris. Of course, some storm drains need a bit more work to be truly effective; storm drain replacements, upgrades, and renovations may be necessary. This is often the case when a storm drain is particularly old or damaged. Changes to the surrounding landscape and nearby stormwater mitigation measures can also have an impact.
ABOUT RELIABLE CONTRACTING
Reliable is dedicated to delivering quality products, displaying professionalism within the firm, seeking new opportunities for expansion and profitability, and providing an environment for individual success. If you have a commercial or residential construction project that you need taken care of, please contact Anne Arundel County's largest site-work contractor today by calling 410-987-0313 or visiting our website. You can also follow Reliable Contracting on Facebook, LinkedIn, Pinterest, and Twitter!

Reliable Contracting Company serves the following and surrounding counties: Annapolis, Queen Anne's, Anne Arundel, Baltimore, Baltimore City, Calvert, Caroline, Charles, Howard, Prince George, St. Mary's, Talbot, and Washington D.C.