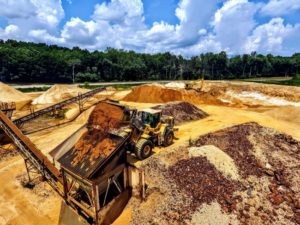 Construction work begins with excavation. No matter if you are embarking on building a commercial, industrial, or residential plot, digging into the soil is the very first step. In Maryland, a significant region along the Chesapeake Bay consists of sandy soil, a soil type not known for its foundational stability. Below are some tips for building on sandy soil in Maryland.
Know the Soil Type
The first step is to have a soil test and know exactly what soil type you are handling. Even if the soil is plainly sand, there are different kinds of sand and it is important to know what the given sand is. It will help you understand its chemistry and what your next steps are.
Know the Load Capacity
Another part of evaluating the existing soil is knowing how much weight it can bear without shifting or collapsing. This step will require calculating the load-bearing capacity of the current soil and the expected weight of your future building, road, lot, runway, etc.
Consider Stabilization Options
Drilling Deep
Once you have the information above, you can approach building on sandy soil in one of several ways. One is to drill deep down and uncover what soil type lies under the sandy soil. One could potentially build a foundation using this soil or by creating a similar soil type with the sand.
Soil Stabilization
Adding other soil matter to sandy soil is a popular way to create a solid foundation for construction. Common materials used include cement, fly ash, and lime. One may need to create a test sample before adding bulk material into the ground.
Compaction
Another method for building on sandy soil is compaction. Sand is easier to compact due to its relatively large granules compared to silt or clay. Smooth wheel rollers, vibratory rollers, and pneumatic rubber-tired rollers are different machines for the job.
Blasting & Vibroflotation
Blasting and vibroflotation are two other forms of densifying sandy soil. Blasting uses underground explosives to compact soil, and vibroflotation compacts soil via a centrifugal machine.
Work with a Professional
Reliable Contracting is happy to work with you on your excavation and construction project. Excavation and grading are two of our premier services, among asphalt and concrete paving, utility installation, trucking, and soil cement installation.
ABOUT RELIABLE CONTRACTING
Reliable is dedicated to delivering quality products, displaying professionalism within the firm, seeking new opportunities for expansion and profitability, and providing an environment for individual success. If you have a commercial or residential construction project that you need taken care of, please contact Anne Arundel County's largest site-work contractor today by calling 410-987-0313 or visiting our website. You can also follow Reliable Contracting on Facebook, LinkedIn, Pinterest, and Twitter!
Reliable Contracting Company serves the following and surrounding counties: Annapolis, Queen Anne's, Anne Arundel, Baltimore, Baltimore City, Calvert, Caroline, Charles, Howard, Prince George, St. Mary's, Talbot, and Washington D.C.