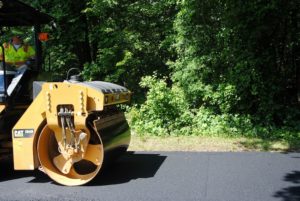 Construction work involves many steps, but each one done right is worth it. One of the very first steps in construction is preparing the ground. It involves hauling earth, removing debris, and grading the soil. It also may involve compacting the soil. While there are different methods of soil stabilization, some projects may choose soil compaction as the best option. Below, we'll learn more about the role of compaction in improving soil and how Reliable Contracting can help your construction project in Maryland.
The Goal of Soil Compaction in Construction
The goal of compaction in construction is namely to improve the soil for laying a proper foundation. One needs to stabilize the earth beneath a foundation for a road, a building, a parking lot, or a runway so that it will not crumble or move over time.
One can take an even closer look, however. At the particle level, the soil needs to have as few air gaps as possible to achieve stability. When the soil is free of as many air pores as possible, it is stronger and impervious to deterioration via water and the freeze-thaw cycle.
In conclusion, the goals of soil compaction in construction are to strengthen the soil, make it impervious to water and thus deformation, and increase the soil's bearing capacity.
Types of Soil in Maryland Construction
Maryland is like a miniature America, having everything from eastern sandy shores to the mountainous west. One can find multiple soil types in Maryland, like sandy, clay, loamy, and rocky soil. Each construction site is unique. Even so, one can categorize a given soil as either cohesive or non-cohesive. Cohesive soil has fine grains that form a bond, like clay, and non-cohesive soil has grains that do not stick together, like sand. The soil type in a given case will determine what compaction method one uses.
Choosing the Right Equipment
Knowing the soil type will allow the construction crew to use to right method and equipment to stabilize the soil. One can choose between different compacting machines, such as padfoot, vibratory, smooth roller, pneumatic tire, and trench compactors. Cohesive soils will need higher vibratory amplitudes, while non-cohesive soils might use lower amplitudes.
ABOUT RELIABLE CONTRACTING
Reliable is dedicated to delivering quality products, displaying professionalism within the firm, seeking new opportunities for expansion and profitability, and providing an environment for individual success. If you have a commercial or residential construction project that you need taken care of, please contact Anne Arundel County's largest site-work contractor today by calling 410-987-0313 or visiting our website. You can also follow Reliable Contracting on Facebook, LinkedIn, Pinterest, and Twitter!
Reliable Contracting Company serves the following and surrounding counties: Annapolis, Queen Anne's, Anne Arundel, Baltimore, Baltimore City, Calvert, Caroline, Charles, Howard, Prince George, St. Mary's, Talbot, and Washington D.C.