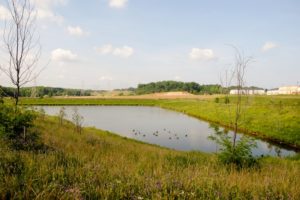 In some areas, a basin is a desirable solution for managing stormwater runoff. When water runs off of pavement like concrete or asphalt, it travels very fast compared to lawns and other natural grounds. The rate the stormwater drains should match the rate the stormwater runs. Therefore, letting stormwater run off into a basin, which can catch a large amount of water at a time, could be the answer. There are two types of basins, namely retention vs. detention ponds. The main difference between them is that one is wet and one is dry, but what other differences are there? Find out below!
Retention Ponds
A retention pond is a basin that permanently retains water. It usually fills up with water through connected storm drains. Retention ponds only let out water through a riser that is located at a higher point on the side of the pond.
This structure can have benefits for the community aside from efficient stormwater drainage. It can increase the value of a commercial or residential area by providing a local water feature. Some have fountains in the center that beautify and aerate the water. They can also create a natural habitat for wildlife and plant life. When designed correctly, retention ponds can also improve water quality.
The only negatives of retention ponds include the need for a significant portion of land to create one, the potential for mosquitoes, and the potential for drowning. With proper design and safety measures in place, a retention pond can be a pleasant and useful landscape feature.
Detention Ponds
A detention pond is a dry structure that has a riser located at the bottom of the basin. Whenever water flows into the detention pond, it is more likely to drain right out and stay dry. Detention ponds may have turf or wild grasses. Like retention ponds, they may require a large swathe of land to create one, but their main function is to process water overflow during severe storms only.
While detention ponds can be quite large, they are generally smaller than a retention pond and typically cost less to build. They may have vegetation growing on the perimeter as well as within the basin, which promotes beauty. Some parking lots may have miniature detention ponds featuring native plant species that enjoy wet or dry conditions.
On the other hand, detention ponds typically do not offer water quality benefits and may breed mosquitoes and detract from property value rather than add to it. If you need stormwater system design and installation in Maryland, Reliable Contracting can help!
ABOUT RELIABLE CONTRACTING
Reliable is dedicated to delivering quality products, displaying professionalism within the firm, seeking new opportunities for expansion and profitability, and providing an environment for individual success. If you have a commercial or residential construction project that you need taken care of, please contact Anne Arundel County's largest site-work contractor today by calling 410-987-0313 or visiting our website. You can also follow Reliable Contracting on Facebook, LinkedIn, Pinterest, and Twitter!
Reliable Contracting Company serves the following and surrounding counties: Annapolis, Queen Anne's, Anne Arundel, Baltimore, Baltimore City, Calvert, Caroline, Charles, Howard, Prince George, St. Mary's, Talbot, and Washington D.C.