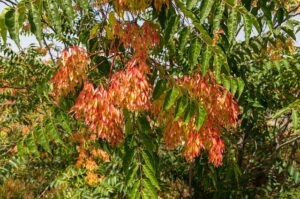 Maryland has many wonderful species of plant life, but some are actually invasive and threaten the well-being of native plants. Tree of Heaven is one of these invasive species and poses not just a threat to other plants but also to building foundations, sewer systems, and roads. If you are involved in road maintenance management, you can help! Here is more information on how you can eliminate Tree of Heaven in Maryland pavement.
Tree of Heaven: An Invasive Species
You probably have seen Tree of Heaven before on the roadside or in someone's backyard, or perhaps in a vacant lot, sidewalk crack, or right next to a building's foundation. It is a tree that can grow upwards of 80 feet tall and three feet wide. It has long, compound leaves and pink, feathery-looking flowers. Although it has a similar appearance to native Sumac, it is not closely related.
Tree of Heaven is also known as ailanthus, stink tree, and Stinking Sumac or Chinese Sumac. Indeed, it arrived from China as a horticultural species as far back as 1784 and was used as a hardy street and shade plant. However, it soon took over both the east and the west coast and continues to be a troublesome tree today.
How They Spread
There are male and female Tree of Heaven trees. The male flowers have a smell like burnt cashews or peanuts, hence the name "Stinking Sumac." Broken limbs can have the same effect. Its seeds can spread via winds and animals. Its trees also resprout, and those sprouts suck on the roots of parent trees many feet away. A parent tree can grow between 10-15 feet per year, and a root sucker can grow 6 feet a year.
How Asphalt Maintenance Can Help
Tree of Heaven can grow practically anywhere, including within cement and asphalt cracks and potholes. Asphalt and cement maintenance can help eliminate Tree of Heaven in Maryland in the following ways:
Crack Filling
Over time, sidewalks, roads, and parking lots will develop cracks in which plants can grow. The best way to eliminate unwanted and damaging plant growth in these structures is to keep up with crack filling services. A professional crew can routinely seal those cracks from harmful moisture and seeds.
Sealcoating
Sealcoating is a necessary step after paving or crack filling. It protects the pavement from the elements, which over time could cause cracks to form in porous cement and asphalt. To learn more, contact Reliable Contracting!
ABOUT RELIABLE CONTRACTING
Reliable is dedicated to delivering quality products, displaying professionalism within the firm, seeking new opportunities for expansion and profitability, and providing an environment for individual success. If you have a commercial or residential construction project that you need taken care of, please contact Anne Arundel County's largest site-work contractor today by calling 410-987-0313 or visiting our website. You can also follow Reliable Contracting on Facebook, LinkedIn, Pinterest, and Twitter!
Reliable Contracting Company serves the following and surrounding counties: Annapolis, Queen Anne's, Anne Arundel, Baltimore, Baltimore City, Calvert, Caroline, Charles, Howard, Prince George, St. Mary's, Talbot, and Washington D.C.