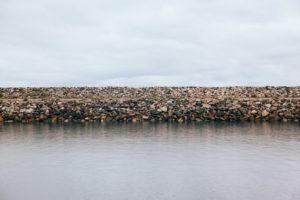 Ponds, lakes, reservoirs, and dams are essential parts of stormwater management efforts in Maryland and throughout the country. While there are many differences between the various structures that can be used for stormwater mitigation, many of them include one common element: a clay core. Although its consistency can change when exposed to water, clay is a relatively impermeable material that is ideal for making watertight barriers. As such, it is a common choice when it comes to creating structures that must obstruct water. In this blog, we explore the purpose and composition of a clay core as used in ponds, dams, and other structures.
What Is A Clay Core And What Does It Do?
In construction, a clay core refers to the impermeable layer of clay in a dam, lake, or other structure. This layer is designed to keep water from passing through, and a semi-permeable shell often covers it. Retention dams and ponds require impermeable cores so that water does not simply flow out through the porous fill material, and clay is an excellent material for this application. Although it can absorb a small amount of water, clay can make a watertight seal when adequately applied and compacted.
What Is A Clay Core Made Out Of?
As one might expect, the clay core of a dam or pond is made of clay. For a pond or reservoir, a thick layer of clay is often installed to create an impermeable shell. The area is first excavated and compacted. The installation of a clay core typically involves laying down a clay layer, applying water, and compacting it. Proper compaction and a thick layer of clay are necessary to create a truly impermeable foundation. When used to create a dam or similar structure, a vertical core is erected and compacted at the site of the project. Construction crews then encapsulate this base with a semi-permeable shell, which often has a significant clay content.
Using A Clay Core
Not every pond or lake will have a clay core. Some bodies of water, including bioswales and retention ponds, have semi-permeable or porous bases by design. These facilities often use plants and fill material to absorb water, filter it, and reintroduce it to nearby streams and ecosystems. Whether or not your next project involves installing a clay core, contact the team at Reliable Contracting. Our experts are ready to help with your next stormwater mitigation project!
ABOUT RELIABLE CONTRACTING
Reliable is dedicated to delivering quality products, displaying professionalism within the firm, seeking new opportunities for expansion and profitability, and providing an environment for individual success. If you have a commercial or residential construction project that you need taken care of, please contact Anne Arundel County's largest site-work contractor today by calling 410-987-0313 or visiting our website. You can also follow Reliable Contracting on Facebook, LinkedIn, Pinterest, and Twitter!

Reliable Contracting Company serves the following and surrounding counties: Annapolis, Queen Anne's, Anne Arundel, Baltimore, Baltimore City, Calvert, Caroline, Charles, Howard, Prince George, St. Mary's, Talbot, and Washington D.C.