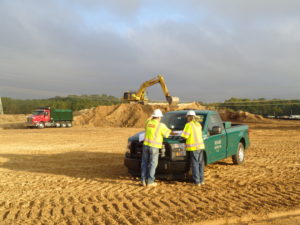 Commercial development can involve creating a plethora of different properties, from stores and restaurants to athletic facilities and factories. While each project has a unique set of challenges and requirements, most start off the same way: with a stable foundation and high-quality sitework. The team at Reliable Contracting has provided sitework services for many commercial development projects that can be seen throughout Maryland and the District of Columbia. Read on to learn more about sitework and common types of construction projects that fall under the commercial development umbrella.
Common Facilities for Smaller Commercial Development Projects: Retail, Restaurants, and More
Some of the most popular forms of commercial development that Marylanders see daily are stores and restaurants. Retail stores and shopping centers require all of the structural considerations of any other commercial property, and a stable, secure foundation is chief among them. Sitework contractors working on these projects must often consider underground utilities, soil composition, and a building's final layout to create a foundation and building pad that meet the project's needs.
Large-Scale Commercial Development
The team at Reliable Contracting also tackles large commercial development projects, and these can involve sitework, grading, and excavation services on an even larger scale. Factories, hospitals, sports arenas, and shopping malls typically cover a large area and require building pads and foundations that can support massive structures. Managing underground utilities for these projects can be a significant challenge. Contractors working on these types of projects must work well with architects, engineers, and relevant stakeholders to ensure that the finished foundation and building pad can serve their intended purpose.
Sitework Creates a Crucial Foundation
Without high-quality sitework, commercial development would be impossible. Shaky foundations and poorly-managed underground utilities can stop a project before it begins, and the safety hazards presented by poorly-done sitework can result in physical injury, expensive accidents, and lost time. Hiring an experienced sitework contractor is essential for commercial development projects, and the experts at Reliable Contracting are committed to excellence and safety at every step of the way. Start your next project off on the right foot with sitework services from Reliable Contracting.
ABOUT RELIABLE CONTRACTING
Reliable is dedicated to delivering quality products, displaying professionalism within the firm, seeking new opportunities for expansion and profitability, and providing an environment for individual success. If you have a commercial or residential construction project that you need taken care of, please contact Anne Arundel County's largest site-work contractor today by calling 410-987-0313 or visiting our website. You can also follow Reliable Contracting on Facebook, LinkedIn, Pinterest, and Twitter!

Reliable Contracting Company serves the following and surrounding counties: Annapolis, Queen Anne's, Anne Arundel, Baltimore, Baltimore City, Calvert, Caroline, Charles, Howard, Prince George, St. Mary's, Talbot, and Washington D.C.