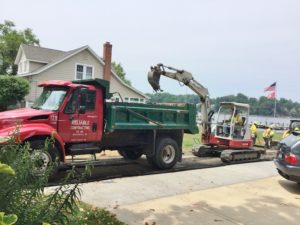 While we've talked at length on this blog about fill material and what it takes to build a solid foundation, we have not discussed what happens when the existing ground on a worksite is inappropriate for construction. Some sites can be prepared with the addition of gravel, clay, or dirt, but others require the excavation and removal of matter that is not usable as fill. These substances can include muck, rock, clay, etc., and are often referred to in this context as "unsuitable material." When contractors discover unsuitable material, they must remove and replace it to create a firm foundation for the rest of the project.
Why Contractors Excavate Unsuitable Material
Unsuitable material can include various substances, from clay and stone to construction debris and plant matter. Although some of these components are commonly used in construction, they may be deemed unsuitable due to the requirements and challenges for a specific worksite. Removing these extra materials allows contractors to create foundations that will last, eliminating any items that can shift or degrade over time and ensuring that the new fill meets the property's every need.
Replacing Unsuitable Material With Appropriate Fill
Once the unsuitable material has been excavated, construction experts must replace it with matter that can meet the needs of whatever building or structure will be built on the worksite. Fill dirt, clay, sand, and gravel are just a few of the options that contractors can choose from. Many foundations utilize multiple materials for the perfect amount of porosity, firmness, and stability. Creating a foundation from the ground up can be a challenge, and excavation experts must be incredibly well-versed in the characteristics of fill materials, soil composition, worksite safety, and more. The experts at Reliable Contracting have the knowledge and tools necessary to create stable, long-lasting foundations, even when working around the challenges of unsuitable material.
Disposing of Waste and Debris
The job isn't done once a crew excavates and removes unsuitable material. These substances must be appropriately disposed of and processed. Some materials may be reused or recycled, while others will have to be hauled to a landfill or waste processing facility. Disposing of waste properly is critical for our planet's wellbeing, and the family at Reliable Contracting is committed to minimizing our negative environmental impact and incorporating green construction practices.
ABOUT RELIABLE CONTRACTING
Reliable is dedicated to delivering quality products, displaying professionalism within the firm, seeking new opportunities for expansion and profitability, and providing an environment for individual success. If you have a commercial or residential construction project that you need taken care of, please contact Anne Arundel County's largest site-work contractor today by calling 410-987-0313 or visiting our website. You can also follow Reliable Contracting on Facebook, LinkedIn, Pinterest, and Twitter!

Reliable Contracting Company serves the following and surrounding counties: Annapolis, Queen Anne's, Anne Arundel, Baltimore, Baltimore City, Calvert, Caroline, Charles, Howard, Prince George, St. Mary's, Talbot, and Washington D.C.