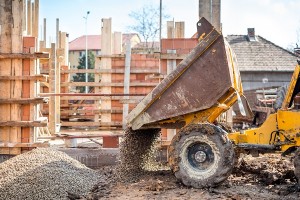 If you need excavation and grading services for your construction project, there is a chance that you will need soil modification or soil stabilization services too. Soil stabilization helps to give the natural soil enough strength to bear the weight of the structure you plan to build, such as a road or a building. The right type of soil underneath the structure will keep it from shifting, cracking, and sinking later on. Portland cement soil stabilization is one common type of soil stabilization, but what exactly does it mean? Below is a brief introduction.
What Is Portland Cement?
Portland cement is one of the most common types of cement in the world. A British stone mason named Joseph Aspdin named and patented Portland cement in 1824, after the Portland stone commonly used in constructing buildings at the time. Its truest form could be attributed to Isaac Charles Johnson in 1850. Practically speaking, Portland cement is a powder consisting of lime, silica, and aluminum.
Types of Portland Cement
Five major types of Portland cement exist today, and each has different uses.
Type 1: Type 1 is the most common type of all, used for soil stabilization and the construction of many concrete products, like pipes, bridges, and sidewalks. It has a low heat of hydration, meaning that the concrete mix produces a low amount of heat when it reacts with water.
Type 2: Type 2 has particular resistance to sulfates, which makes it suitable for harsher conditions where mild sulfates are likely. This type is common for retaining walls, piers, and drainage systems.
Type 3: Type 3 Portland cement sets quickly and is ideal for rapid construction and colder temperatures. It has about the same strength as Type 1 and is also used for soil stabilization.
Type 4: Type 4 is highly specialized to produce a less than minimal heat of hydration.
Type 5: If the ground or water is thick with sulfate ions, you will want Type 5 Portland cement to take on the high density of sulfates. It is like Type 2, but for severe sulfate exposure.
Types 1a, 2a, & 3a: These types are variations of 1, 2, and 3 that contain air-entrainment admixtures. This means that the concrete has small air bubbles that give the concrete more flexibility during the freeze-thaw cycle.
ABOUT RELIABLE CONTRACTING
Reliable is dedicated to delivering quality products, displaying professionalism within the firm, seeking new opportunities for expansion and profitability, and providing an environment for individual success. If you have a commercial or residential construction project that you need taken care of, please contact Anne Arundel County's largest site-work contractor today by calling 410-987-0313 or visiting our website. You can also follow Reliable Contracting on Facebook, LinkedIn, Pinterest, and Twitter!
Reliable Contracting Company serves the following and surrounding counties: Annapolis, Queen Anne's, Anne Arundel, Baltimore, Baltimore City, Calvert, Caroline, Charles, Howard, Prince George, St. Mary's, Talbot, and Washington D.C.