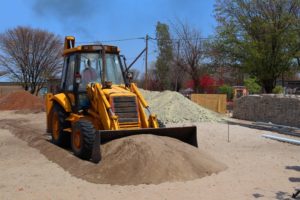 Construction projects happen year-round in Maryland, and inclement weather can cause delays at any time of year. However, most people have concerns about embarking on outdoor construction in winter. When excavation is involved, would the frigid temperatures be a problem? Is there any benefit to winter excavation in Maryland? Indeed there is! Reliable Contracting is here for your Maryland construction project, offering excavation, grading, utility installation, and more.
Can Winter Excavation in MD Be Problematic?
Like any season, winter will have unique potential challenges that could cause excavation delays. Frozen soil can be more arduous and time-consuming to work with, and snow and ice could be a concern for slip n falls, electrocution, and the quality of the soil or concrete or asphalt installations.
Aside from these issues, freezing weather naturally makes a less comfortable working condition, but excavation crews like Reliable Contracting are no stranger to dealing with the elements heartily. One can also relax knowing that experienced excavation companies have the equipment and the methods to deal with various construction site conditions, including those affected by harsh winter weather.
Benefits of Winter Excavation in Maryland
Winter excavation in Maryland has its advantages. One is that Maryland typically does not have long weeks of freezing temperatures, nor does it have much snow. The ground will not become rock hard unless the temperature has been below the freezing point for weeks on end. Otherwise, the ground might be frozen only on the surface. Marylanders can attest to the fluctuations of temperature during the winter, and one can expect Reliable Contracting to make the most of those sunny and mild winter days!
Another benefit of winter excavation is timing. When people begin to grow more active in the spring again, it is timely to have your construction project complete by then for the grand opening. Spring is a popular time for people to explore new housing options and commercial amenities, so winter is a great time to get your project underway.
Trust Your Excavation Project to Reliable Contracting!
If you need a trusted, well-established excavation company with turn-key construction services, then Reliable Contracting is your go-to company in Maryland! To see how we can help your residential, commercial, or governmental construction project come to life, contact us today!
ABOUT RELIABLE CONTRACTING
Reliable is dedicated to delivering quality products, displaying professionalism within the firm, seeking new opportunities for expansion and profitability, and providing an environment for individual success. If you have a commercial or residential construction project that you need taken care of, please contact Anne Arundel County's largest site-work contractor today by calling 410-987-0313 or visiting our website. You can also follow Reliable Contracting on Facebook, LinkedIn, Pinterest, and Twitter!
Reliable Contracting Company serves the following and surrounding counties: Annapolis, Queen Anne's, Anne Arundel, Baltimore, Baltimore City, Calvert, Caroline, Charles, Howard, Prince George, St. Mary's, Talbot, and Washington D.C.