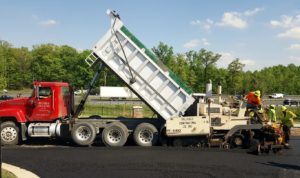 People all over the globe are doing what they can to go green, and professionals involved in large-scale construction and manufacturing processes have the ability to make more of an impact than most. Asphalt recycling is just one of many green construction practices that can help minimize your project's carbon footprint. At Reliable Contracting, our dedicated team is committed to safety, sustainability, and (of course) excellent construction. Read on to learn about the basics and benefits of asphalt recycling, and be sure to reach out to the team at Reliable for help with your next project!
What is Asphalt Recycling?
Asphalt recycling is the practice of processing and reusing old pavement for new projects. Milling is a key contributor to recycled asphalt, and it involves removing the top layer of a paved area for resurfacing. Without disturbing the subbase, crews remove the topmost layer of asphalt and send the material to a plant for processing. Once it is sized and sorted, the recycled material is used to make new pavement for other projects. Another way to reuse old asphalt is through asphalt pulverization. The process of pulverization involves breaking up old pavement on the job site and mixing it into the existing subbase. This creates an even stronger foundation upon which new pavement can be laid.
Financial Benefits of Asphalt Recycling
Asphalt recycling provides substantial benefits for a project's bottom line. The process drastically reduces or eliminates various expenses, including the costs of transportation, new materials, disposal, and labor. In addition, incorporating green construction techniques is an excellent way to gain interest and support for your project. Pursuing LEED certification for your property can give you access to a host of credits, rebates, and other financial incentives, and using recycled materials can help your project get certified.
Environmental Impact
Recycling waste and using recycled materials are both fantastic ways to reduce the negative environmental impact of your project. While asphalt recycling can cut a variety of construction costs, it also helps limit the greenhouse gasses released by the transport and production of pavement. Reusing spent pavement also keeps the material out of landfills and reduces the need for harvesting virgin materials. If your next project involves the installation, removal, or resurfacing of a paved surface, incorporating asphalt recycling into the process can help you make a positive difference for our planet.
ABOUT RELIABLE CONTRACTING
Reliable is dedicated to delivering quality products, displaying professionalism within the firm, seeking new opportunities for expansion and profitability, and providing an environment for individual success. If you have a commercial or residential construction project that you need taken care of, please contact Anne Arundel County's largest site-work contractor today by calling 410-987-0313 or visiting our website. You can also follow Reliable Contracting on Facebook, LinkedIn, Pinterest, and Twitter!

Reliable Contracting Company serves the following and surrounding counties: Annapolis, Queen Anne's, Anne Arundel, Baltimore, Baltimore City, Calvert, Caroline, Charles, Howard, Prince George, St. Mary's, Talbot, and Washington D.C.