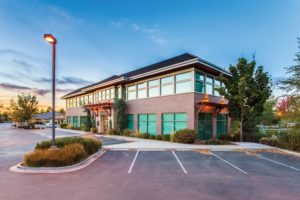 Business owners and facility managers everywhere work to stay on top of maintenance and upkeep for their properties. From schools and shopping centers to offices and hotels, many types of facilities utilize parking lots to accommodate visitors and manage traffic. Road striping is a critical maintenance concern for any property with a parking lot, fire lane, or road. Keeping your pavement markings bright and visible has a slew of important benefits. If you own or manage a facility with a parking lot, be sure to invest in road striping to keep visitors safe.
Fresh Road Striping Boosts Curb Appeal
First and foremost, fresh road striping looks good. Lines that are faded and patchy can make your facility look run-down and poorly-maintained. On the other hand, bold and bright lines can make a positive impression on your visitors. Putting your business's best foot forward is crucial, and the parking lot is one of the first things that customers see. A well-maintained parking lot can signify to visitors that you take pride in your business's appearance and that you care about customer experience and safety.
Clear Lines Can Limit Liability and Promote Safety
Not only do bold lines have aesthetic appeal, but they also help keep your visitors safe. Clear crosswalks, fire lanes, and loading zones are critical for the effective management of pedestrian and vehicle traffic. In addition to helping reduce the frequency of accidents, maintaining these pavement markings can help limit your liability when accidents do occur. Furthermore, many state and local jurisdictions have ordinances regulating various aspects of parking lot striping, including the size of the spaces and the number of accessible car and van spaces per lot.
Proper Road Striping Can Maximize Your Parking Lot Capacity
In addition to the aesthetic and safety benefits that it can provide, road striping is an excellent way to make the most out of your parking lot. Creating an efficient layout for parking spaces can help property owners accommodate as many vehicles as possible, maximizing the number of visitors that can be parked at one time. While this is particularly valuable for paid parking areas, any facility can benefit from a clearer and more efficient system of pavement markings. If your facility is in need of road striping, contact the experts at Reliable Contracting!
ABOUT RELIABLE CONTRACTING
Reliable is dedicated to delivering quality products, displaying professionalism within the firm, seeking new opportunities for expansion and profitability, and providing an environment for individual success. If you have a commercial or residential construction project that you need taken care of, please contact Anne Arundel County's largest site-work contractor today by calling 410-987-0313 or visiting our website. You can also follow Reliable Contracting on Facebook, LinkedIn, Pinterest, and Twitter!

Reliable Contracting Company serves the following and surrounding counties: Annapolis, Queen Anne's, Anne Arundel, Baltimore, Baltimore City, Calvert, Caroline, Charles, Howard, Prince George, St. Mary's, Talbot, and Washington D.C.