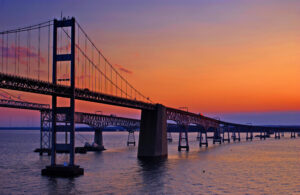 Although the United States is not as ancient as some countries, it has many historic landmarks and locations that are rich in beauty and significance. Maryland is one state that is chock full of historic landmarks and buildings, many of which are in use today. At Reliable Contracting, we help preserve and improve Maryland scenes with reliable infrastructure. In light of National Preservation Month, we'll take a closer look at how Reliable continues preserving Maryland's communities via paving, utilities, and other services.
National Preservation Month
National Preservation Month is during the month of May, a time to bring awareness to the importance of our nation's historic landmarks and celebrate those who have sacrificed much to save historic places. This year's theme, as set by the National Trust for Historic Preservation, is "People Saving Places."
Keeping Roadways Reliable
Reliable Contracting contributes to preserving Maryland's communities through quality asphalt and concrete paving services. Since 1928, Reliable has helped with and performed construction work and is recognized as Central Maryland's number one asphalt manufacturer. Our services include grading, soil cement installation, asphalt paving, and concrete curb and gutter installation. We are a single source for all asphalt paving services, from soil stabilization to grading to asphalt road maintenance and repair.
All of our asphalt and concrete services provide smooth, recyclable, and cost-effective roadways for you to see all the beautiful destinations that the Old Line State has to offer. The entire process ensures that roadways are stable and promote efficient stormwater drainage. Without proper planning, installation, and maintenance, local areas can flood and vehicles can suffer unnecessary damage.
Preserving Maryland Utilities
Water is one of the most powerful forces in nature, and Reliable Contracting is dedicated to implementing efficient stormwater management systems throughout the state. Stormwater management systems include storm drainage systems, conspan bridges, bioswales, coastal plain outfalls, retention ponds, and regenerative stormwater conveyance systems. We design and install natural and manmade systems to preserve our surrounding communities. What's more, we provide erosion control services and emergency repair services that further preserve Maryland's communities and landscapes for years to come.
Paving and stormwater management services make a difference in preserving our historic lands!
ABOUT RELIABLE CONTRACTING
Reliable is dedicated to delivering quality products, displaying professionalism within the firm, seeking new opportunities for expansion and profitability, and providing an environment for individual success. If you have a commercial or residential construction project that you need taken care of, please contact Anne Arundel County's largest site-work contractor today by calling 410-987-0313 or visiting our website. You can also follow Reliable Contracting on Facebook, LinkedIn, Pinterest, and Twitter!
Reliable Contracting Company serves the following and surrounding counties: Annapolis, Queen Anne's, Anne Arundel, Baltimore, Baltimore City, Calvert, Caroline, Charles, Howard, Prince George, St. Mary's, Talbot, and Washington D.C.