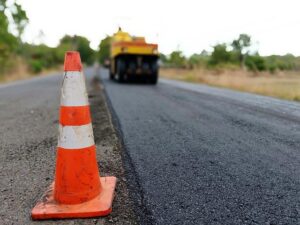 May 11th, 2022, is National Night Shift Workers' Day! Every year, the asphalt paving industry celebrates various holidays dedicated to the field and the workers that make projects a success. Below, you can learn more about how night shift workers aid the highway industry, how asphalt benefits our society, and how night shift workers can continue to perform their work safely.
Thank You Night Shift Workers!
Working the night shift, also known as the third shift, is no easy task. Human beings are not naturally nocturnal, and so keeping up one's health and stamina during the night shift is a feat. National Night Shift Workers' Day is a time to commemorate all night shift workers, especially those who work in hazardous conditions such as public roads. Thank you to all night shift workers!
Smooth Asphalt Overnight
Thanks to our night shift workers, local regions can have new, smooth asphalt roads overnight. You might have traveled home on a bumpy, jittery road and woken up to gliding seamlessly over the same road the next morning. Today's asphalt mixtures are cost-effective, recyclable, and designed to reduce splash and spray by 95%. Of course, construction time takes far less than it used to as well.
Tips for Night Shift Asphalt Road Work
Although working on the roads at night is ideal for its lower traffic activity, it is nonetheless the most dangerous time to perform road work. Those driving on the roads at night could be intoxicated, fatigued, visually impaired, or reckless. Even road workers could face fatigue. That's why it is crucial for all night shift workers on the road to follow these guidelines:
Plan
The first step is to plan the workers' schedule far in advance. The schedule should be set at least two weeks in advance so that there will be no surprises when it comes time to work. A sudden shift in work hours could be debilitating and dangerous to the road worker.
Train
Employees should also have training for nighttime road work. They should know what to be alert for, how to communicate clearly, and how to react in any given event. Workers should also wear personal protection equipment (PPE) to maximize visibility at night.
Rest
Night shift workers should also maintain the best strategies to keep rested. Early morning can be a difficult time to stay alert, which could result in tragic accidents with construction vehicles and machinery. The team can look out for each other to detect if anything is wrong.
ABOUT RELIABLE CONTRACTING
Reliable is dedicated to delivering quality products, displaying professionalism within the firm, seeking new opportunities for expansion and profitability, and providing an environment for individual success. If you have a commercial or residential construction project that you need taken care of, please contact Anne Arundel County's largest site-work contractor today by calling 410-987-0313 or visiting our website. You can also follow Reliable Contracting on Facebook, LinkedIn, Pinterest, and Twitter!
Reliable Contracting Company serves the following and surrounding counties: Annapolis, Queen Anne's, Anne Arundel, Baltimore, Baltimore City, Calvert, Caroline, Charles, Howard, Prince George, St. Mary's, Talbot, and Washington D.C.