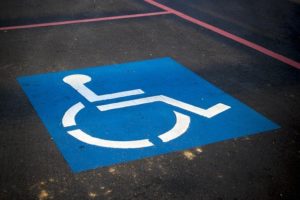 Road striping and refinishing are critical components of any asphalt maintenance routine. Few things can make a commercial or residential area look more polished than freshly-striped pavement, and clear road markings can boost safety in parking lots and on roads. Many facilities, including shopping centers, apartments, and schools, must comply with the rules outlined in the Americans with Disabilities Act. This includes, among other things, providing an appropriate number of accessible parking spaces and creating parking spots that have the proper dimensions. In this blog, we will explore road striping as it relates to safety and ADA-compliant parking lots.
How Road Striping Helps Make Spaces Accessible
Following the law as it relates to the Americans with Disabilities Act is crucial — not just because it's the law, but because it allows individuals with limb differences, mobility aids, and all kinds of disabilities to access the same areas and services as everyone else. One key component of the ADA as it relates to parking lots and structures is that accessible parking spaces and van parking must be clearly labeled. Signs emblazoned with the International Symbol of Accessibility — that familiar image of a stick-figure person in a wheelchair — are necessary. The ISA is often painted on accessible spaces, and clear parking lot lines can help identify these spots even further.
Fresh Road Striping Keeps Lines Clear and Visible
Road markings tend to fade over time. Clear lines and fresh road striping are important for parking lots and structures, particularly where accessible parking spots are concerned. Keeping accessible spaces clearly marked can help minimize the misuse of these spaces. Accidentally parking in an accessible space can take these spots away from the people who need them. The same clear road markings that boost safety in crosswalks, roads, and parking lots can make these parking spaces unambiguous and well-defined.
Features of ADA-Compliant Parking Lots
ADA-compliant parking lots and structures are just one facet of accessible design. Still, there are many rules and guidelines in place when it comes to road striping in ADA-compliant parking lots. The number of accessible parking spaces is dependent on the overall number of spots in a lot or structure, and a predetermined amount of these spaces must also be van accessible. The location and width of these parking spaces are also subject to the standards outlined in the ADA. If your facility's parking lots or roads need fresh road striping, contact the team at Reliable Contracting. Our experts are proud to offer asphalt paving, maintenance, and repair services to our clients in Maryland and the District of Columbia.
ABOUT RELIABLE CONTRACTING
Reliable is dedicated to delivering quality products, displaying professionalism within the firm, seeking new opportunities for expansion and profitability, and providing an environment for individual success. If you have a commercial or residential construction project that you need taken care of, please contact Anne Arundel County's largest site-work contractor today by calling 410-987-0313 or visiting our website. You can also follow Reliable Contracting on Facebook, LinkedIn, Pinterest, and Twitter!

Reliable Contracting Company serves the following and surrounding counties: Annapolis, Queen Anne's, Anne Arundel, Baltimore, Baltimore City, Calvert, Caroline, Charles, Howard, Prince George, St. Mary's, Talbot, and Washington D.C.