Reliable Contracting is the proud recipient of an ABC Excellence in Construction Award for the completion of Solar Park, in which our teams were responsible for constructing an infrastructure to commission the MVAC power generation plant over the capped municipal landfill in Annapolis, Maryland.  As a civil contractor, Reliable Contracting is thrilled to be a part of a clean, renewable energy movement in Anne Arundel County, Maryland.
Solar Park Project Overview
The Solar Park project was a challenging and meaningful project for Reliable Contracting, as it involved the old Annapolis Landfill, capped by Reliable Contracting decades ago. Below is a general overview of the project: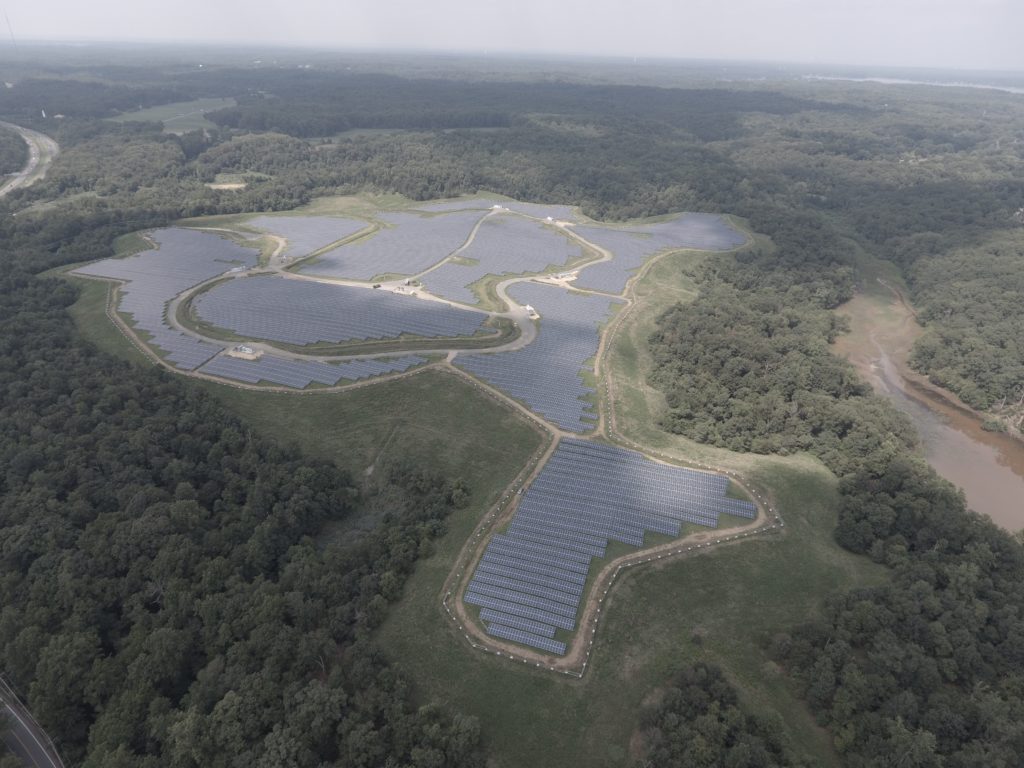 Type of construction: Civil

Size of project: 90 acres

Contract value: $1,771,675.55

Duration of project: 8 months

Construction method: Lump Sum & Unit Pricing

Percentage of labor that is self-performed: 90%
Companies who contributed to this project include D&D Drilling, Fence and Deck Connection, Rommel Construction, GroSolar & ARM Group did the engineering, Recon Corporation.
Special Considerations for Solar Park
This project required the use of  55,000 Solar panels to top of the capped landfill, as well as a careful consideration of low ground pressure and the cap liner. Prior to starting work across the 90 acre capped site, the Paving division added Petro Mat Fabric and and additional 3" of asphalt to the existing landfill access road. Once this was completed, Reliable Contracting grading division rose the challenge of installing 3 miles of E&S Controls with low pressure load restrictions of 7psi, as well as haul roads capable of withstanding loads beyond 100,000 lbs.
Project Scope and Challenges
This task was accomplished with the installation of High Performance fabrics to bride the 18" of stone from the constantly changing subgrade. Upon the completion of these roads, Reliable installed seven 30' x 60' stone equipment pads ranging from 3 feet to 11 feet thick pending on the ground elevation and conditions. Reliable's scope in this project included:
Low pressure load/equipment restrictions (7 PSI) due to working on a capped landfill

Tiant Sellman's crew installed 2.9 miles of filter-logs for erosion and sediment control, driving stakes every 4 feet

Danny's Harris' crew Hauled and placed 18,000 tons of aggregates to withstand loads over 100,000 lbs.

Jeremy Kirby and Tom Superzinski's crews installed 2.2 miles of buried conduit
This project of Solar Park also included challenges  of installing roads on low ground pressure, as this work took place on a cap and could not withstand a ground pressure of any more than 7 psi. With this, our utility crews worked carefully during the winter months to avoid puncturing the cap liner.
ABOUT RELIABLE CONTRACTING
Reliable is dedicated to delivering quality products, displaying professionalism within the firm, seeking new opportunities for expansion and profitability, and providing an environment for individual success. If you have a commercial or residential construction project that you need taken care of, please contact Anne Arundel County's largest site-work contractor today by calling 410-987-0313 or visiting our website. You can also follow Reliable Contracting on Facebook, Google+, LinkedIn, Pinterest, and Twitter!
Reliable Contracting Company serves the following and surrounding counties: Annapolis, Queen Anne's, Anne Arundel, Baltimore, Baltimore City, Calvert, Caroline, Charles, Howard, Prince George, St. Mary's, Talbot, and Washington D.C.