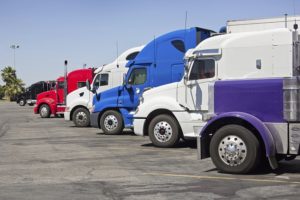 If you're looking to hire a trucking company for your business, there are several things to keep in mind. While it may be tempting to choose the most cost-effective option, this can result in damage to your goods, delay your schedule, and even result in expensive mistakes. It's important that your products reach their destination safely and in a timely manner, and hiring a trustworthy trucking company is key. Here are some of the qualities to look for in a successful trucking company in order to ensure a job well done.
Insurance
First things first: you should always make sure a trucking company is properly licensed and insured. There are licensing and insurance regulations that all transportation companies must follow to ensure the safe handling of many types of equipment. This is especially important if your business will require the transport of hazardous materials or other unusual cargo. Safety regulations also make it easy in many cases to compare driving records across several trucking companies, allowing you to make an informed decision.
Well-Maintained Equipment
One sure sign of a reliable trucking company is the state of its equipment. Well-maintained trucks and facilities indicate a professional environment where safety standards are key. Always look into how operations are run before hiring a trucking company, in order to make sure that equipment and operations are up to your standards. This can usually indicate which companies will consider safety and professionalism top priorities.
Professionalism
A trucking company's service history is also important for helping you determine the best company to partner with. Pay attention to how the company interacts with you and other customers, and always ask for references. Past customers, especially business owners in your industry, can give you a good idea of the level of service you can expect, which will help you make the right choice when hiring a trucking company.
Tracking Technologies
Another thing to look for is a tracking system. With GPS and RFID technologies available to transportation professionals, you can easily track your goods throughout the course of their transportation. This level of transparency can help you find a trucking company that you can trust to transport your products safely and in a timely manner. Tracking technologies can also help you keep better track of your inventory and reduce product loss, allowing your day-to-day business to run more smoothly.
ABOUT RELIABLE CONTRACTING
Reliable is dedicated to delivering quality products, displaying professionalism within the firm, seeking new opportunities for expansion and profitability, and providing an environment for individual success. If you have a commercial or residential construction project that you need taken care of, please contact Anne Arundel County's largest site-work contractor today by calling 410-987-0313 or visiting our website. You can also follow Reliable Contracting on Facebook, LinkedIn, Pinterest, and Twitter!
Reliable Contracting Company serves the following and surrounding counties: Annapolis, Queen Anne's, Anne Arundel, Baltimore, Baltimore City, Calvert, Caroline, Charles, Howard, Prince George, St. Mary's, Talbot, and Washington D.C.