Join Our Team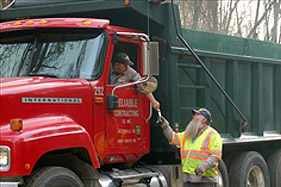 The growth and progress of any organization like ours depends on its employees… people with initiative, creativity and enthusiasm working as a team in an atmosphere of respect and harmony. Reliable's success is due in no small part to the talented, professional and loyal team that we have assembled. Our mission statement includes a line, "to provide for individual success". We take this seriously and promote from within whenever possible.
Reliable maintains a strong commitment to the welfare of its employees and strives to provide all employees with a benefits package that is cost effective and comprehensive in design.
We currently offer the following benefits:
Weekly Pay with Direct Deposit
Medical Coverage
Prescription Drug Plan
Dental Plan
Vision Plan
401K
Profit Sharing Plan
Employee Recognition Programs
Employee Bonuses
Wellness Programs
Flexible Spending Accounts (includes Dependent Care Reimbursement Accounts)
Employee Assistance Program
Short Term Disability
Life and Accidental Death & Dismemberment Insurance
Supplemental Benefits
Credit Union Memberships
Paid Holidays
Vacation
Training & Career Development
Tuition Assistance
More than 40% of our employees have been with Reliable for 10 years or more, and many represent second- and third-generation employees from the same family. But new employees are needed also, to bring a fresh perspective and new ideas to our company. If you share our enthusiasm and think you have the potential to meet our high standards and help us maintain our leadership position, we invite you to inquire about open positions that match your qualifications. Contact either of our office locations.
Reliable Contracting Co., Inc. is an Equal Opportunity Employer. Veterans and Women are welcome and are encouraged to apply.
Current Openings:
We do not have any job openings at the moment. Please come back again later.
Anne Arundel County:
Asphalt Plant:
Concrete Crew Positions:
Drivers:
Grading and Utility Crew Positions:
Mechanics
Charles County:
Utility Crew Positions:
How to Apply:
Applications are only available at our administrative offices.
Corporate Office
The Founders' Building
2410 Evergreen Road, Suite 200
Gambrills, MD 21054
Tel: 410-987-0313
Monday – Friday, 7:30 am – 4:30 pm
Southern Maryland Office
10315 Theodore Green Blvd.
White Plains, MD 20695
Tel: 301-645-2725
Monday – Friday, 8:00 am – 4:00 pm
For more information call 410-987-0313 or email us at hr@reliablecontracting.com.
---
Employee Information
Reliable recognizes that our employees are our most important resource; without you, our success would not be possible. We believe that the investment we make to provide benefits to improve our employees' quality of life, are the most important dollars we spend.
This site provides easy access to all your benefit providers. Phone numbers are listed and access to their website, can be reached by clicking on the logos/web addresses below. Some sites may require you to register and obtain a code to access the site. (To determine if you qualify for these benefits, contact our HR department.)
FORMS: These common forms used by our Human Resource Dept. can be downloaded for your use.
Important Notices and Information
Cobra
CareFlex COBRA – 888-577-2762
Credit Union Memberships
Disability – Short term coverage
This coverage is offered by Reliable. For information, contact our Human Resource Dept. 410-987-0313 or

hr@reliablecontracting.com

.
Disability/Life and Other Voluntary Insurance Products
Colonial Life – 800-325-4368  www.coloniallife.com 
Combined Worksite Solutions – 800-424-8830.

www.combinedinsurance.com
401(k)
Dental Insurance
Employee Assistance Program
Group Vision Service
Health Insurance
Health Reimbursement Accounts and Dependent Care Accounts
Health Savings Account
Life Insurance
Mutual of Omaha Life Insurance. You are able to purchase additional coverage at group rates. Please contact our Human Resource Dept for more information.
Online Pharmacy Orders
Profit Sharing Plan
See Employee Handbook or contact our Human Resource department at 410-987-0313 or

hr@reliablecontracting.com.
Voluntary Insurance Benefits
The guys at Reliable are my 'go to guys' when there's even the slightest question.
– Bruce DeLawder, Whiting Turner